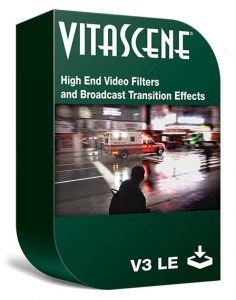 For a limited period you can buy Vitascene 3LE at a reduced price if you have already bought EDIUS 9.  There is a special offer running from 14/9/18 to the end of the year where you will get Vitascene 3LE free with a new purchase of EDIUS 9.  If you have already bought EDIUS you can get it a reduced cost of £39+VAT, £42 inc.
Vitascene LE is a collection of 100 filters which add different looks to your image and a range of fancy transitions.  You have glow and sparkle effects, grading and film looks, and a range of filters that add dust dirt and other effects to the image.  It works as a plug into EDIUS, so you just drop it on the clip, open the interface and tweak the results and save back to EDIUS.  Effects are keyframable and you have a range of controls over them.
Vitascene 1 used to ship with EDIUS 6 so you may already be familiar with the kind of things it can do.  There is also a full version available with a lot more filters and effects.
If you order from the button below you will be ordering from the European distributors of EDIUS, with support from DVC training in the UK.  This will also give you a proper VAT invoice.

£35+VAT, £42 inc VAT
What is the difference between Vitascene 3 full and LE?
| | | |
| --- | --- | --- |
| | VitaScene V3 PRO | VitaScene V3 LE |
| Number of Effects | Around 700 | Over 100 |
| Detail setting for effects | Yes | No |
| Key frames | Yes | Yes |
| Pinnacle Studio Plugin | Yes | No |
| Magix VDL Plugin | Yes | No |
| Adobe Plugin | Yes | Yes |
| Vegas PRO Plugin | Yes | Yes |
| Avid Plugin | Yes | Yes |
| Corel Plugin | Yes | Yes |
| Grass Valley EDIUS Plugin | Yes | Yes |
What can Vitascene 3 do?
The following video was made by ProDad, the company who make Vitascene.  It is for the full version of Vitascene so some of these features may not be available in the LE version.  I hope to have a better comparison of the two versions available soon: