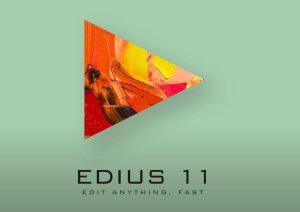 EDIUS 11 was launched on 11th October 2023 and you can find links to order the software below and in my Webshop. Below are details of the new features and some changes to the software since EDIUS X. Please read through the changes before ordering as some things have have been removed, or are available as an optional add-on and the bin has been redesigned. The best news is that the price has dropped for upgrading and buying a new version.
New features
Here is a summary of the new features that have been announced.
AI speech clean up. – if you have seen some of my videos you may have already heard this in operation. I have the full version of Acon Accoustica and one of the filters it adds to EDIUS X is this AI voice extract filter. I use it to clean up all my dialogue. Now it comes free with EDIUS 11.
An additional audio editing program – which is Acon Acoustica Standard. This program also lets you take an audio clip from EDIUS and, using AI, transcribe it for subtitles. These can then be saved and uploaded to YouTube or using in EDIUS using VisTitle Express, to burn in subtitles.
A new titler – VisTitle Express which is a cut down version of VisTitle, my favourite titling program. NewBlue Titler Pro does not come with EDIUS 11.
Adjustment layers – a layer on which you can put effects which then apply to all the clips underneath them.
New Glitch transitions using proDAD Vitascene.
A new auto colour correction tool, developed by proDAD, which uses AI to adjust the image "based on human perception".
A new native OFX bridge – up to now EDIUS has used an OFX bridge developed by NewBlue. The new bridge is better integrated and looks similar to the old After Effects plug-in bridge that was in EDIUS 9 and earlier. On its own the bridge does nothing, it allows you to buy OFX effects from other companies and use them inside EDIUS. The most common OFX plug-ins are probably Boris Continuum and Sapphire which are being tested with the new bridge. I am also hoping that NewBlue might take their noise reduction plug-in and make an OFX version to use in EDIUS, so that it would now work in 10 bit.
Start a project matching your clip settings – you have to choose a clip in your library in Mync and then right click and choose to start an EDIUS project but then EDIUS creates a project with settings which match the clip.
Social media presets – GV have "hard wired" in some project presets set to the right frame sizes etc for social media – although all of them are set to 29.97 FPS. When you go to export there are some specific H.264 settings for social media as well.
Sharing projects between users using Chorus Hub. This is another program you can buy which links together different people using EDIUS. It is designed for large organisations, rather than an individual user.
GPU acceleration for playback of video using an nVidia card– the GPU acceleration function for playback is not included on the first release but will come "in the near future". I would suggest that if this is your main reason for buying EDIUS you hang on until it is actually here as I would with any program. Get EDIUS 11 now if you want any of the new features above.
A new version of EDIUS – EDIUS Broadcast – which is essentially EDIUS Workgroup but with the Professional Dolby plug-in included.
Changes from EDIUS X
Stereoscopic editing – for editing 3D video – has been removed. If you want to edit 3D video you will need EDIUS X.
RS442 control tape capture with Storm 3G – very specific to the Storm 3G and you would only use this for capture from old analogue decks with RS422.
If you want to author DVD and Blu-ray you will have to pay for an add-on to do this. The authoring is exactly the same as in previous versions but GV have to pay a licence to include it in EDIUS, so they have dropped the normal price and made this an extra, for €36, so that only people who want it have to pay for it. Alternatively, if you have EDIUS 9, you can keep this on your computer and export a movie from EDIUS 11 and author in EDIUS 9.
EDIUS 11 will co-exist with EDIUS 9, but will not let you keep EDIUS X on your computer. If buying an upgrade EDIUS 11 will use one of your EDIUS X licences (as with previous versions). As you get two activations with EDIUS X you could leave one activated on another computer, or set up a dual boot systems with two versions of Windows, one running EDIUS X and one running EDIUS 11, but they cannot exist on the same installation.
The licence has changed. EDIUS X could be installed on 2 machines, although you were only supposed to use one at a time. With EDIUS 11 you can only have it activated on one. You can deactivate off one machine and activate on another but can only do this twice in one week. So if you have a desktop and laptop and want to swap between them frequently you will need to buy 2 licences. You can buy a second licence at a reduced cost. This is not available to buy yet but the price will be €99 for a full version and €49 for an upgrade.
EDIUS Workgroup now requires that you have an EDIUS ID – previously you did not need this and it was a requirement of EDIUS Pro only. I am checking to see if this also means the computer will need to go on the internet regularly with EDIUS Workgroup – in previous versions it never needed to go on the internet.
To work with the new Chorus Hub the bin has been redesigned. In doing so the way it works has changed slightly and some functions which were in the old bin are no longer included. for example you can no longer edit clip information in the bin, you have to got to the properties panel for this. The upshot is that if you want to change some property for multiple clips – the tape name, field order etc – you cannot do this. This was possible in EDIUS X and previous versions. EDIUS also does not indicated which clips are used on the timeline and which are not used – previously this was indicated by a green dot on the thumbnail or the "timeline reference count" column.
Hopefully, these will be added back in to the new bin in future updates, in the same way EDIUS X's job monitor was adapted and added to after its initial release. EDIUS do not comment on what will be in future releases so I do not know for sure that these will be added back.
NewBlue Titler Pro does not come with EDIUS 11 and the EDIUS X version will not work in EDIUS 11. If you want to carry on using NewBlue Titler then you will have to buy and upgrade from the EDIUS X version to the full one (€49, and not yet included on my website). Personally I prefer VisTitle, but if you do not have NB Titler then any project made in EDIUS X and then opened in EDIUS 11 will need the titles remade.
Mync has had a few things removed as well as added and a bit of a redesign – Storyboard eating, duplicate file search, Offline clip search and the option to copy and verify at the same time have all been removed. I have to admit that most of my customers do not use Mync so probably will not notice these things being removed. You can now transcode in Mync and add markers. You can also launch an EDIUS project from Mync and it will make the project settings match the clip you have chosen.
All clips from EDIUS projects also get loaded into Mync automatically although I have not yet found a practical use for this.
If you buy EDIUS after 15th September and before 10th November you get a free upgrade to EDIUS 11.  You will have until the end of the year to claim the free update.
Grass Valley made a launch video quickly demonstrating some of the new features:
Prices:
These prices are in both Euro and sterling. When buying through my site you will actually buy direct from the EDIUS European distributors. If you choose to buy in Euros it will probably work out a bit cheaper in the long run after your credit card company have done the currency exchange. The links will take you to a shipping cart in Euros but you can change to sterling from a drop down at the top of the page.
The following video is a short interview with Alex Kataoka, head of EDIUS development, at IBC about the launch of EDIUS 11.
Please note that a few of the things they discuss about sharing information and making new programs to detect scenes inside clips and search for scenes using descriptions will only be possible using EDIUS Chorus Hub, which is an extra cost, plus some third party programs that were written to use the information in Chorus Hub. Regular EDIUS will not do this "out of the box"
---
---
---