Tutorial is £69, and can be ordered from here: http://www.dvctraining.co.uk/product/comprehensive-vistitle-tutorial/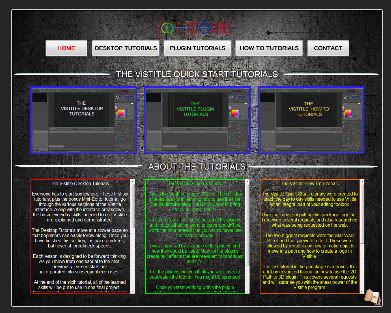 This comprehensive VisTitle tutorial is made by Jerry Hatfield of SGDV and consists of 3 main sections:
The desktop tutorials – a series of lessons to get you familiar with the basics of the program
The plug-in tutorials – A set of 9 tutorials covering the various plug-ins available with VisTitle
The "how to" tutorials – a series of 6 tutorials on how to make certain types of title from scratch.
This tutorial was made about the full version of VisTitle 2. VisTitle 3 Express ships with EDIUS 11 and is similar but not exactly the same. Jerry may rework the tutorial to cover the full version of VisTitle 3, but I do not know when this will happen, whether the update will be free to people who own this tutorial or how much it would cost.
I will work through this tutorial using VisTitle 3 Express so I can say how close the interfaces are and post here and on my Facebook page when done.
How does the tutorial work?
The tutorial consists of several movies which cover a variety of different topics. Each movie is stored as an MP4 file and should play in media player on your computer. The tutorial menu will guide you to which video clip you would like to watch and explain the differences between them. Once you have chosen the clip you want to watch you simply click on the link and the clip opens in Media player which you can resize and move wherever you want. The menu interface will completely take over the main screen but it is easy to move it to a second screen if you prefer. Details on how to do this are all supplied with the tutorial or you can just ask us at DVC.
Tutorial Quality
One of the reasons the tutorial has been made in this way is so that the clips can be supplied at the best quality possible. All the movies are full 1920×1080 HD and encoded to make sure the picture is the best achievable. There are also 1280×720 HD MP4 files on the pen which you could transfer to a tablet and watch on that while using VisTitle on your main computer. The menu system of the tutorial will not work on a tablet but the movie clips will.
Where can you copy the tutorial files?
When you buy this tutorial you are allowed to copy the files to your pc and also to a tablet as mentioned. However, they are for your use ONLY. Please do not distribute them or upload them to any websites such as YouTube. Please do not distribute copies of the tutorial to friends. You will be breaking the licence agreement in doing so. A lot of work has gone into creating the tutorials and unless people buy them instead of stealing them through illegal copying there will not be any more tutorials in the future.
Tutorial contents
The desktop tutorials
A selection of tutorials which explain the basics of VisTitle, taking you around all the main windows and explaining everything in depth.
The menu bar – 22 min
The layout list – 6 min
The Status bar – 7 min
Timeline/library panel – 9 min
The properties panel – 35 min
The edit screen – 38 min
The mini editor – 17 min
The plug-in tutorials
VisTitle has various plug-ins for a variety of features. Many come free with the program, some are available as extras. Most of these tutorials deal with the free plug-ins which ship with VisTitle 2.
Magic composite – 11 min
Text kerning and leading – 11 min
Text path animation – 13 min
Image slide show – 13 min
2D Vector transformation – 9 min
2D stroke animation – 18 min
4 point deformation – 17 min
Shadow – 9 min
3D text – 27 min
The "how to" tutorials
These are a variety of titles which tackle making specific types of title in the program.
Scroll & crawl tutorial – 37 min
Title audio syncing – 10 min
Typewrite effect – 18 min
Making path animations – 13 min
Effects template library – 20 min
2D path to 3D advanced tutorial – 26 min (this tutorial is available to download fro free from the SGDV website)
All timings are approximate.
Sample chapters
Visit: https://www.youtube.com/channel/UCMVlxC8Am4qFbkXJRoPAnMQ/videos to see some sample and extra titles made by Jerry so you can see his style of presentation.
Comprehensive Vistitle Tutorial
To order the tutorial click here: http://www.dvctraining.co.uk/product/comprehensive-vistitle-tutorial/