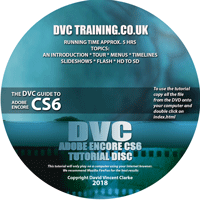 The download version of this tutorial is approximately 700MB. After ordering you will be sent an email with a link to download the file, which is an exe file. Your email or web browser may warn about downloading and EXE file but in this case it is OK.
There is a time limit of approximately a week for you to do this. If you have not successfully downloaded the tutorial in this time please email us and we can provide new links for the download.
Simply double click on the final file and run the setup program. It will prompt you for where you would like the tutorial installed. It will take about 700MB of hard drive space, and can be saved anywhere on your computer. Once the installer has finished you will have an icon on your desktop for the CS6 tutorial. Simply double click on this icon and the tutorial will open in your chosen web browser. We have found Mozilla Firefox gives the best results. If you open in Internet Explorer it will first prompt you to allow an "active-X" program. You will need to click ok before the tutorial will play.
The tutorial obviously needs an internet connection to be downloaded but you do not need an internet connection on the computer on which it is installed. It will run happily at the same time as Adobe Encore. If you have problems downloading or installing the tutorial please email me:david@dvctraining.co.uk.
The tutorial is licensed for use by the person who has purchased it. Please do not distribute it without the permission of DVC.
Course Contents
The tutorial is divided into several sections to help you locate the information in which you are interested. If learning Encore from scratch we suggest you watch the A Basic Introduction to Encore first as it shows the entire authoring process as well as covering all the main options. The second part to watch would be the Tour of Adobe Encore which explains what all the windows do and how to arrange them. With the other sections we suggest you look at the chapters when needed.
A full list of all the chapters in each section and the timings is presented below.
Is this tutorial relevant to the Creative Cloud version of Encore?
The simple answer is YES. There is no Encore CC so if you are renting the Adobe software via the cloud you will be using Encore CS6 which is the version covered in this tutorial. The chapters regarding the dynamic link between Encore and Premiere Pro are no longer relevant because you do not get the dynamic link between Premiere Pro CC and Encore CS6. The link still exists between Premiere Pro CS6 and Encore CS6, both of which can be downloaded from the Cloud, but we suspect that if you are using the Creative Cloud you will also be using the latest version of Premiere Pro.
However all the other information contained in our Encore tutorial, including details of how to edit menus in Photoshop etc.. is all 100% relevant to the Creative Cloud version.
Contents of tutorial:
A BASIC INTRODUCTION TO ADOBE ENCORE CS6
A complete run through on the basics of making a disc with Encore. This section is enough to get you working with Encore straight away. You can then look at other sections for more in-depth information on the different parts of Encore.
Basic Introduction to Encore – 3.32 min.
Importing footage – 2.36 min.
Adding Chapters and Menus – 3.36 min.
Linking the menu buttons – 4.31 min.
Customising the menu – 3.02 min.
Preview the disc – 3.09 min.
Building the disc – 5.20 min.
A TOUR ADOBE ENCORE CS6
In this section I explain all the Windows in Encore and how to arrange them.
A tour of Encore – 3.14 min.
Default Blu-ray settings – 7.31 min.
Change the project settings – 39 min.
Re-arranging the windows – 4.58 min.
All the different windows – 5.12 min.
The project window – 5.01 min.
Sifting clips in the window – 1.52 min.
MENUS IN ADOBE ENCORE CS6
Everything you need to know about making menus, customising in them in Photoshop, using the library and generating menus automatically using the chapter index.
The basics – 3.36 min.
Add a chapter button – 2.45 min.
Changing the background – 2.36 min.
Menu properties – 4.44 min.
Highlights – 6.54 min.
Making buttons – 3.10 min.
Editing highlights in Photoshop – 3.06 min.
Making a menu from scratch in Photoshop – 3.52 min.
Arranging buttons – 3.22 min.
Using the right arrow for the right job – 7.52 min.
Select lots of items and change attributes -1.59 min.
Default menu and default button – 3.00 min.
Motion menus – 5.00 min.
Loop point – 2.15 min.
Loop point and transitions – 7.43 min.
Button routing – 5.29 min.
The library – Making your own sections – 4.32 min.
Override – 2.31 min.
Create chapter index min.
Blu-ray pop menus – 3.26 min.
Customising a pop up menu – 2.02 min.
Multipage pop up menus – 2.43 min.
Multipage normal menus – 3.08 min.
THE TIMELINE
Everything you need to know about the timeline in Encore – where the video is laid out and chapters are added.
The basics – 1.57 min.
Loading clips and conforming – 2.48 min.
What is audio conforming – 2.22 min.
Interpret footage – 1.31 min.
Making a timeline – 2.35 min.
Trimming down the project list – 1.46 min.
Adding chapters – 2.29 min.
Naming chapters – 4.33 min.
Set poster frame – 2.54 min.
End actions & other properties – 3.31 min.
Different audio tracks – 2.48 min.
Regular playlists – 5.44 min.
Chapter play lists – 4.25 min.
FLOWCHART AND SLIDESHOWS
Two really useful additions – the flowchart helps you to lay out your discs; you can do nearly everything with it or ignore it completely as you wish. The slideshow feature lets you take a selection of stills and easily make a slide show with them.
Using the flowchart – 3.45 min.
End actions and more – 4.45 min.
slideshows – 3.50 min.
Preview with a Black Magic device – 5.40 min.
HIGH DEFINITION TO STANDARD DEFINITION
The best way to convert HD to SD in Encore is mainly to encode in Premiere first.
HD to SD – 3.24 min.
What's the best way to get maximum quality? – 3.42 min.
Downscaling in Premiere Pro – 5.46 min.
Are there better ways of downscaling? – 2.18 min.
THE DYNAMIC LINK
This section is only relevant to users of Premiere Pro CS6 as you can just send a timeline to Encore directly from Premiere without converting it to DVD format first. You can re-edit the timeline in Premiere and Encore will update immediately.
The dynamic link with Adobe Premiere Pro – 6.06 min.
Importing multiple Premiere Pro sequences – 1.30 min.
Why use the Dynamic link? – 2.22 min.
What's bad about the dynamic link? – 1.50 min.
MAKING FLASH DISCS WITH ENCORE
Encore can make DVDs, Blu-ray discs and a Flash version of the disc which can play directly off a DVD. The Flash option is less relevant than it was when Encore was released, since most people have been moving away from Flash. The original version of the tutorial was made as a Flash disc and I have recently re-worked it to be based in a Web interface as some browsers are now not playing Flash from local drives without fiddling with some settings. However, this section is left in the tutorial for anyone who is still making Flash versions of the disc.
The basics of making FLASH discs – 5.47 min.
Specific settings for FLASH discs – 36 min.
Build options – 4.04 min.
Making your own quality presets – 7.20 min.
What are the best encoding settings – 5.08 min.
Max quality and use previews – 4.18 min.
The final results -1.12 min.
HOW I MADE THIS TUTORIAL
The original version of my Encore tutorial was made in Encore and output as a Flash disc. This section describes how this was done. You may think this is not worth watching if you are not making Flash discs but actually most of it is relevant to making any kind of project in Encore as you bring in footage, customs menus etc. for all types of disc. The Encore tutorial is actually pretty complicated so this section will give you tips on how I managed to lay it out as quickly as possible. The only section which will not be relevant to people making DVD or Blu-ray will be the last chapter on building a disc where you would choose to make a DVD or Blu-ray disc rather than a Flash one.
Brining in the footage – 3.44 min.
Add menus – 5.59 min.
Customising the menus a bit more – 3.52 min.
Check the button routing – 3.33 min.
Link-up all the main buttons – 2.11 min.
A different way to make the playlist – 2.41 min.
Preview and Build. – 2.03 min.
---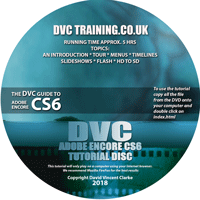 Encore CS6 tutorial