Description
EDIUS X comes with proDAD Vitascene V4 EE (EDIUS Edition). This is an already impressive collection with over 100 all new effects for seamless transitions and over 250 of other effects also suitable for title animation making an ideal effects tool for any type of film or documentary. If you like to be able to choose from even more transition effects and video filters, then proDAD Vitascene V4 PRO is an ideal choice.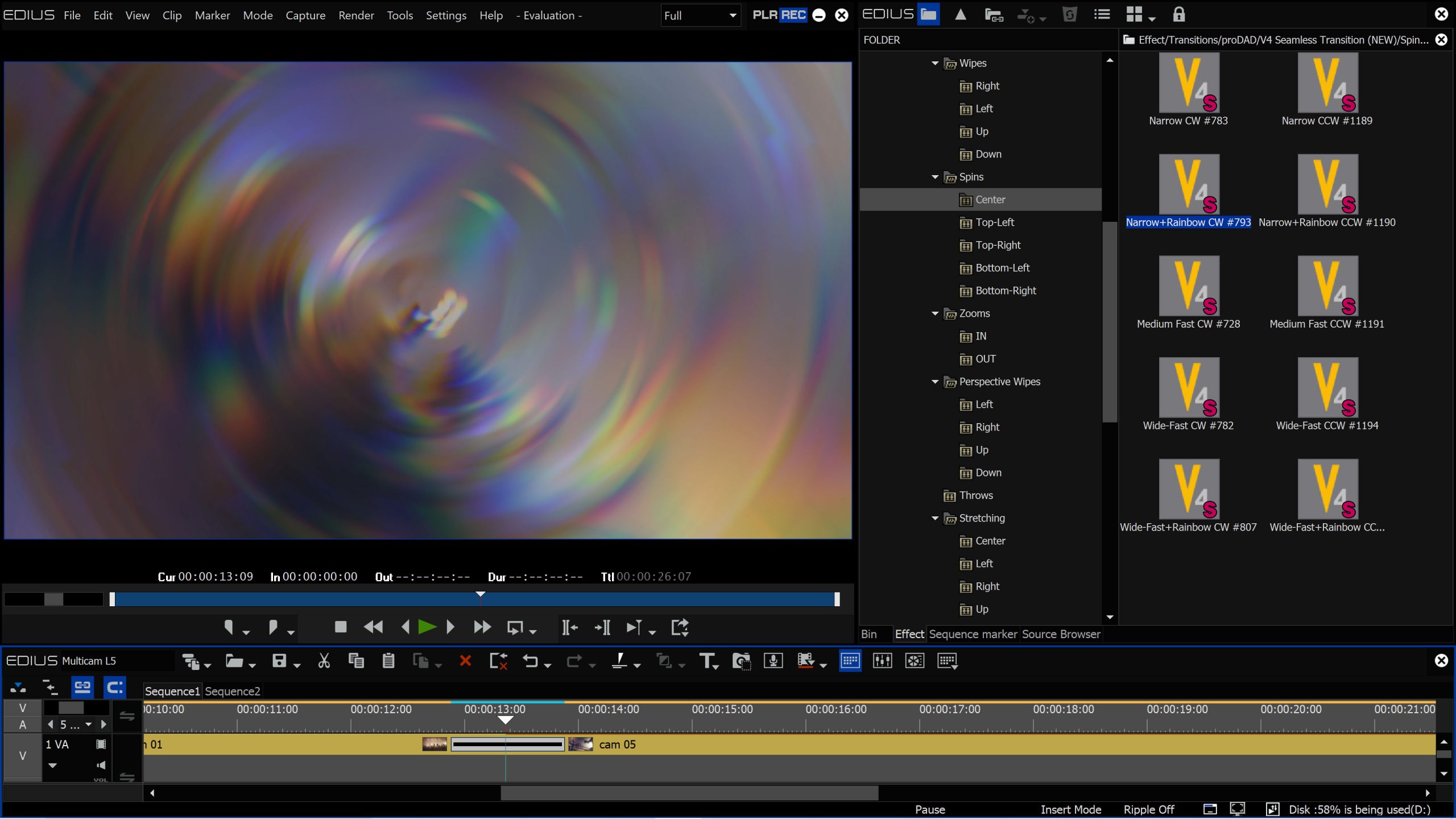 With over 1,400 professional transition effects and video filters, proDAD Vitascene V4 PRO offers probably the most comprehensive and versatile collection of high-quality effects. This makes Vitascene V4 the ideal effect package whether you are a filmmaker, content creator or you shoot weddings, whether you produce documentaries or travelogues.
As an exclusive bonus for EDIUS users proDAD Vitascene V4 comes with all 1.400 Vitascene V4 presets readily accessible within the EDIUS effects menu. This tight integration allows for a verry comfortable and ultrafast workflow.
Compared to its predecessor, proDAD Vitascene V4 has grown in scope from around 700 to about 1,400 filters and transition effects. And for the first time Vitascene V4 offers a completely new, comprehensive effect category that is currently at the top of many filmmakers' wish lists: "Seamless Transitions".
"Seamless Transitions" allow for particularly dynamic, organic, and flowing transitions. A high-quality motion blur can also be combined with a unique color shift effect. Versatile presets allow applying the effects quickly and easily. If you wish to do so, the intensity of the filters and the style of the animation can be precisely controlled via keyframes and adapted to the individual video material. This provides the user with new and flexible design options. The "Seamless Transitions" enrich the creative toolset of each designer and are also excellently suited for dynamic title and graphic animations.
The "Seamless Transitions" section alone already includes a dozen different categories such as wipes, zooms, warps, stretching or panoramic transition effects. These groups are then further subdivided into different characteristics and styles.
In addition to the new "Seamless Transitions", Vitascene V4 PRO offers the entire spectrum of the proven proDAD video filters and transition effects in the best professional quality.
These include filters for looks as well as light filters for lighting your scene in postproduction. This ranges from soft accents and reflections to glistening light. Changes in color and brightness create a romantic or a dynamic mood. Spotlight effects allow to highlight and emphasize details.
Present your pictures in the style of a cartoon, a pencil drawing or in a 3D look! Create surreal worlds by transforming landscape and building shots into miniature landscapes applying the tilt shift effect.
Video filters with highly efficient algorithms will enhance older or not so perfect shots and optimize contrast, brightness, sharpness, and color – all fully automatic and in no time at all!
The Vitascene V4 video filters can also be applied excellently to text inserts and graphics, allowing particularly impressive effects and animations to be created – all with just a few mouse clicks and without any programming effort.
The effective GPU acceleration makes Vitascene V4 particularly powerful and fast. This makes using Vitascene V4 effects fun, especially with in EDIUS.
Upgrade to the advanced version of the plug-in that comes with EDIUS X.
€322.80 (approx £280)
Why have prices in Euro?
You are buying from the EU distributors based in Germany, with support from me in the UK, and all their prices in Euro.  It is possible for me to change the prices in the basket to be in GB pounds, but the conversion is done by the webshop software and the rate is not favourable.  If you buy using a UK credit card in Euro your credit card company will do the conversion for you and the price will be cheaper than if you change the webshop to display GBP.  Unfortunately, this does make things a little more complicated and you won't know the exact UK price you are paying until you get your credit card bill but it will work out cheaper than choosing GBP from the webshop software.   A rough approximation of the UK cost, done at the exchange rate that was available when I wrote this page is written above.   If you prefer to pay in GBP then click the "order in UK pounds" button.
To order simply click on the button to order EDIUS, and on the next page add EDIUS to a basket and order. You will be charge VAT at the UK VAT rate and get a proper VAT invoice. You will get your license and serial number with a download link, directly after your payment, so you can start working immediately.