Grass Valley have released EDIUS 9.31.
The major change in this update is for Workgroup owners ONLY and controls how the hardware that you use to preview your clips, your Grass Valley, Blackmagic or Matrox device, outputs video in projects that it does not support.
Up to now if you chose a project setting your device did not support – UHD at 50P, for example, which not many devices can output, EDIUS would pop up a little message and say that the video out preview does not work. Now you can get EDIUS to downscale the output to something the hardware can cope with – so effectively you can get an output from almost any project. If you are editing UHD @ 50P but your playback device only support 1920 25P it will output 1920 25P. Obviously this means you are not seeing it at fill quality but you are see something on a decent screen.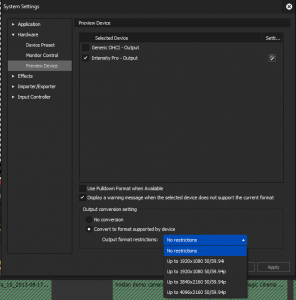 You have two options – the first just converts the output to match whatever your device can support and the second restricts the output to something the TV can support.
For example, you have an Intensity Pro 4K which can do UHD @ 25P but a screen that only does HD, then you can tell EDIUS to convert the video output to a maximum of HD – less than the Intensity Pro supports but the maximum the TV supports.
There is also a new icon on the timeline which shows what is happening to the output.
This is a really useful little update IMO. This new feature is ONLY in the Workgroup version. EDIUS Pro users have the same options as they had before.
EDIUS 9.31 also supports a couple of new video formats and fixes a couple of bugs.
I am making a short video showing this new feature and how to use it which will be on my YouTube channel in the next couple of days.
You can download the update here: https://www.grassvalley.com/support/downloads/
You can see the full list of new features here: https://forum.grassvalley.com/forum/showthread.php?t=42715