Vitascene 3LE free with EDIUS 9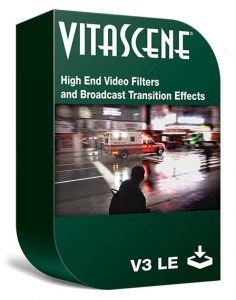 If you buy EDIUS 9 between 14th September 2018 and 31st December 2018 you will get Vitascene 3LE free.  Vitascene is a plug-in which gives you lots of glow and sparkle effects, film looks, and many interesting ways of adjusting your image.  The full version of Vitascene is $599, whilst the LE version is normally $199 to buy.
Vitascene used to ship with EDIUS 6, so you may already be familiar with the plug-in.
To get the free version all you need to do is to order EDIUS 9 between the above dates and then visit this page : https://www.edius.net/promo, and enter your EDIUS serial number.  You will be given a Vitascene serial number and a download link.
This offer is available if you buy ANY version of EDIUS  – Pro, Workgroup, upgrade, jump upgrade or educational.
Offer for people who have already bought EDIUS 9
If you have already bought EDIUS 9 you can get the LE plug-in for £42 inc VAT.  You can order it here: http://www.dvctraining.co.uk/shop/vitascene-3le-for-edius-9-special-offer/
What is the difference between Vitascene 3 full and LE?
| | | |
| --- | --- | --- |
| | VitaScene V3 PRO | VitaScene V3 LE |
| Number of Effects | Around 700 | Over 100 |
| Detail setting for effects | Yes | No |
| Key frames | Yes | Yes |
| Pinnacle Studio Plugin | Yes | No |
| Magix VDL Plugin | Yes | No |
| Adobe Plugin | Yes | Yes |
| Vegas PRO Plugin | Yes | Yes |
| Avid Plugin | Yes | Yes |
| Corel Plugin | Yes | Yes |
| Grass Valley EDIUS Plugin | Yes | Yes |